WE ARE NOW OFFERING 7 WEEK EARLY AM IMMERSIONS OVER THE 1 Year Practitioner Trainings
WE ARE NOW EMPHASIZING 7-WEEK EARLY MORNING IMMERSIONS OVER OUR 1 YEAR PRACTITIONER TRAININGS. WHY HAVE WE MADE THIS CHANGE? WHEN WE HAVE AN COMMITTED GROUP OF THE SAME STUDENTS COMING 4 DAYS A WEEK OVER A TOTAL OF 7 WEEKS, WE CAN TRAIN STUDENTS TO GO FAR IN THE PRACTICE OF IYENGAR YOGA. OUR PRACTITIONER TRAINING COURSES MET ONLY 1 DAY A WEEK.
EARLY MORNING IMMERSIONS MEET TUESDAY THRU FRIDAY AT BOTH 5:30AM-6:45AM AND AT 7:00AM-8:30AM. TAKE EITHER IN-STUDIO OR LIVE ON-LINE ON ZOOM
Iyengar Yoga is also known for helping to develop a practice that is appropriate for the individual. Iyengar Yoga is a fun method of yoga to practice where there are many types of daily practice that can be chosen.
Standing Poses are the foundational poses for the entire system. Props are often used to develop stability, to prevent over-stretching, and to bring more vitality and space to the poses. Iyengar Yoga is well-known as the Gold Standard of Yoga Systems. Richard Schachtel is the Seattle Areas Most Senior Teacher of Iyengar Yoga.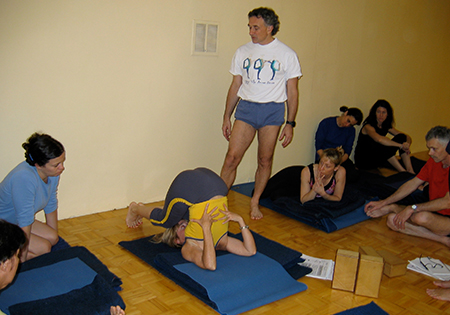 Here are many of the poses you will be learning how to practice and will practicing in Our 7-Week Early Morning Immersions
Standing Poses:
Mountain Pose
Tree Pose
Extended Triangle
Revolving Triangle
Extended Lateral Angle
Revolving Side Angle
Warriors 1,2,3
Half Moon
Intense Side Stretch
Spread Foot Intense Pose
Big Toe Pose
Intense Stretch Pose
Sitting Poses:
Hero Pose & Mountain Pose in Hero
Easy Pose & Mountain Pose in Easy Pose
Pose of the Powers
Lotus Pose
Forward Extensions:
Stick Pose
Head of the Knee Pose
Intense Stretch of the West Side of the Body
3 Part Face to 1 Leg
Marichi Asana 1
Seated Angle Pose and Side Seated Angle Pose
Marichi Asana 3
Half Lord of The Fishes Version 1
Backward Extensions:
2 Legged Inverted Staff Pose with Chair
Upward Dog
Upward Facing Bow
Bow Pose
Camel Pose
Cobra Pose
Locust Pose
Inverted Poses:
Shoulderstand and many variations
Headstand
Full Arm Balance
Forearm Balance
Relaxation Poses:
Corpse Pose
Supported Bridge
Inverted Lake Pose
Arm Balances:
Side Plank
Shoulder Piercing Pose
Crane Pose
and probably more than this!
UPCOMING 7-WEEK IMMERSION START OCTOBER 26, 2021, JANUARY 4TH, 2022 AND FEBRUARY 22, 2022. YOU CAN TAKE THE COURSE EITHER IN STUDIO OR LIVE ONLINE ON ZOOM. GO TO OUR SPECIALS THIS WEEK TO SEE THE UPCOMING IMMERSIONS!