Where to start as a New Student to The Center
How do I start taking lessons at The Center For Yoga of Seattle?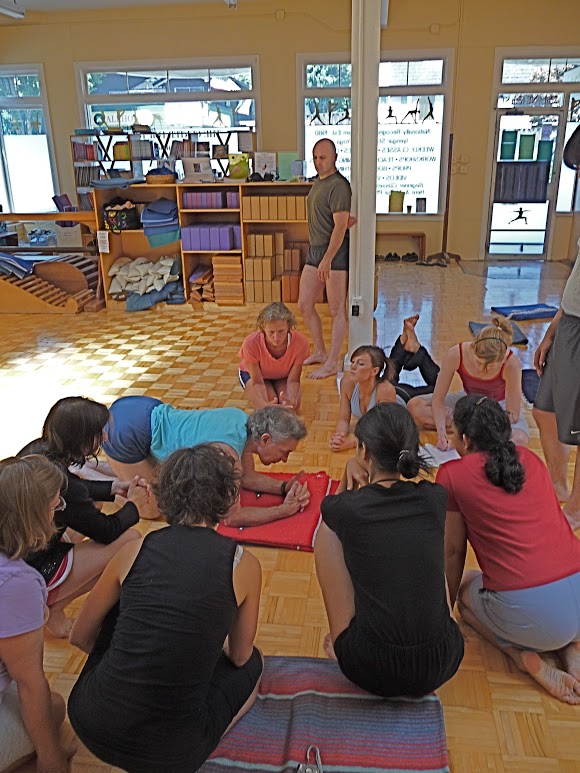 For those of you who are new to Iyengar Yoga, or are not practicing Iyengar Yoga Regularly, there are a number of places to start our program and to immediately begin to benefit from practicing this method of yoga:
Enroll in one of our 7-8 Week Fundamentals Courses which meet once a week. These courses will teach you the fundamentals so lacking at most trendy yoga centers and gyms in an organized and progressively sequential way to learn how to practice well with intelligence and awareness. If you need a Slower yoga class, please see the Slower Yoga Class described below.
Enroll in one of the 2-7 Week Early Morning Immersions that we offer 7 times a year at both the 5:30am-6:45am time and at the 7:00am-8:30am time. These courses are for those who really want to dive in and see where they can go in learning and practicing the art of yoga. These courses meet 4 days a week. For the right person who wants to accelerate their development in yoga, these courses are excellent. Unlike the usual yoga experience of being in class with new people joining all the time, the intensive courses do not allow drop-in students at all. You will be in course with highly motivated students who want to learn and want to improve.
Slower yoga is a special class in our program where we make the practice of yoga accessible to nearly all. The course is taught by one of the most experienced teachers in the Northwest.
Private Lessons. We often have some times we allot for private sessions for 1-2 students. This can be a way of learning how Iyengar Yoga can help you even though you may have some injuries or health issues. Or you may just want to go slowly and get started with experienced mature guidance.
We often have several of the Fundamentals Courses which allow single sessions drop-ins. Please keep in mind that we are teaching 7-8 week sessions and you may be dropping into a class which has been meeting for some time. You can see which classes allow for single session drop-in on the Schedule of Weekly Class Table on the Home Page at yogaseattle.com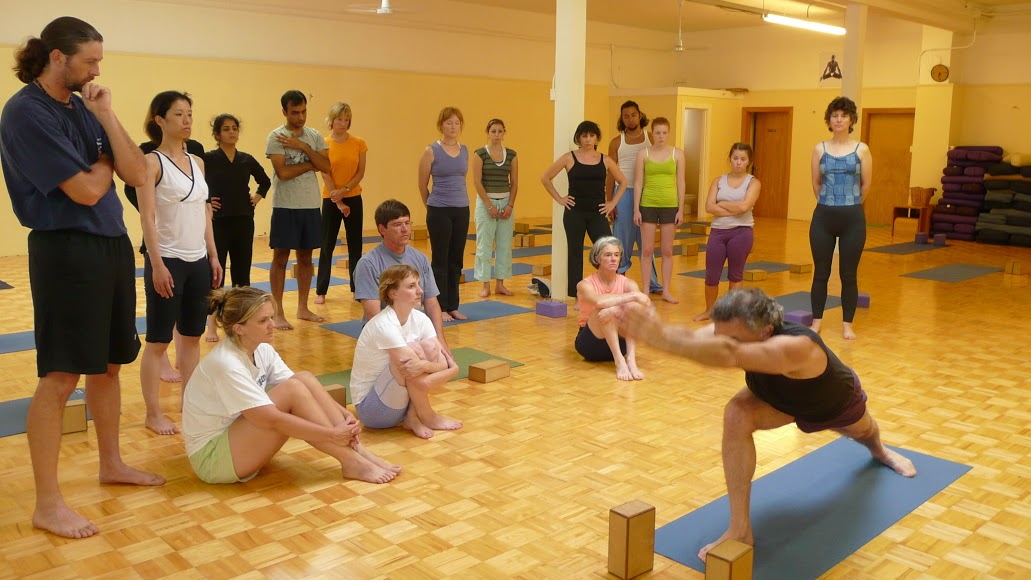 FOR THOSE WHO HAVE RECENT IYENGAR YOGA BACKGROUND AND ARE CURRENTLY PRACTICING IYENGAR YOGA
We have several options for students with good training who can work at a more demanding and powerful manner.
1. We have a weekly Continuing Iyengar Yoga Course on Wednesday Nights at 6:00pm-7:30pm. This is for people who have at least 4 months or more of regular consistent practice of Iyengar Yoga. They are familiar with many of the basic standing poses, and are comfortable doing some version of shoulderstand with props, usually with blankets. Some knowledge of using props is esssential for graduating from a fundamentals class to a Continuing Iyengar Yoga Class.
2. We have 2-7 week early morning immersion courses which can be very beneficial for experienced Iyengar Yoga Students.
We have 3 separate courses and courses 2 and 3 are progressively more challenging. Many students benefit from taking th whole 7 week series. The first 2 weeks are for all levels including beginners. Students learn to practice the standing poses well. in weeks 3 and 4 or course 2, standing poses are further refined, and shoulderstand is introduced and practiced daily, as well as other new poses. In weeks 5-7, or course 3, more advanced sequences are practiced. The immersion courses really help motivated students develop their practice under experienced guidance.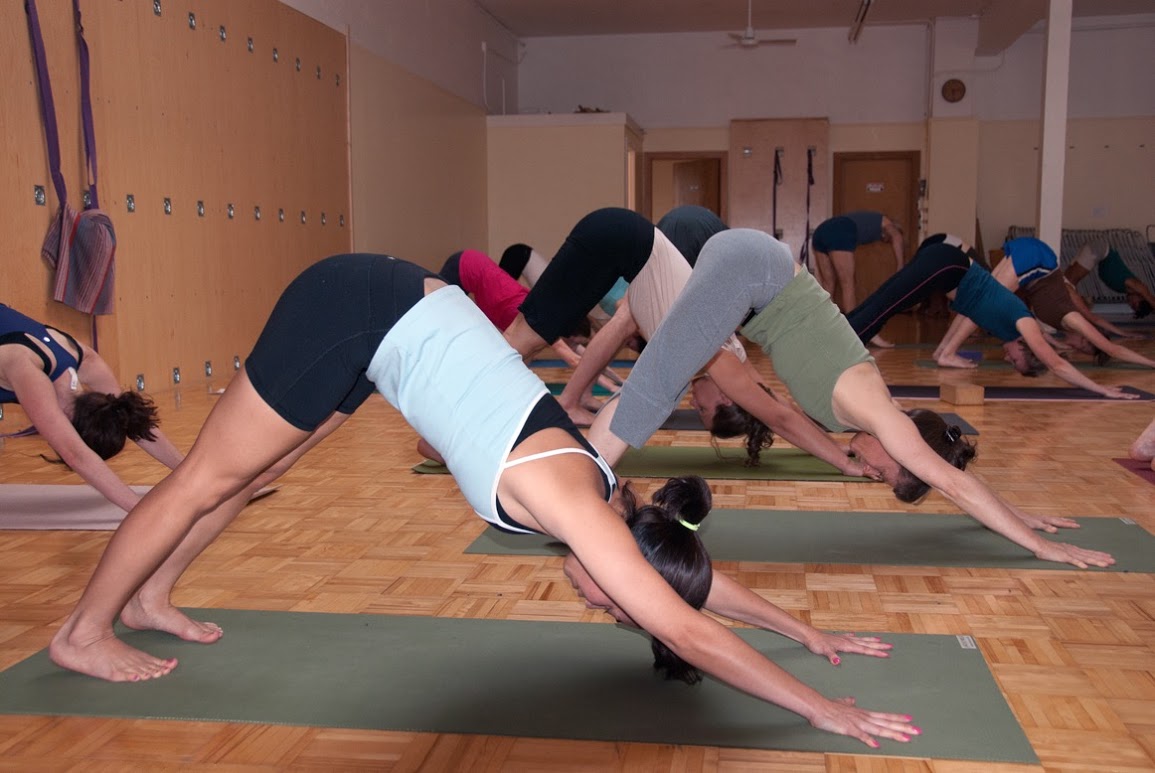 3. We do have a weekly Continuing and Intermediate Iyengar Yoga Course on Mondays at 6:00pm-7:30pm. This a group of expereniced students in Iyengar Yoga who can practice inversions, headstand, shoulderstand, handstand, backarches independent and with props, who can do long forward bending series and know all of the basic standing poses.
4. We do allow drop-ins to our Continuing and to our Continuing and Intermediate Once a Week Course but only if they meet the specific qualifications and experience level described above. Please keep in mind that you are dropping into an organized 7-8 week Continuing Course on Wednesday Nights or to a Continuing and Intermediate Iyengar Yoga Class on Monday nights in which almost all students have signed up for the month and are committed to being in such a class.
CLICK HERE TO SIGN UP FOR A 7-8 WEEK FUNDAMENTALS COURSE, A 2-7 WEEK YOGA IMMERSION, A 4-8 WEEK SLOWER YOGA CLASS, A 7-9 WEEK CONTINUING IYENGAR YOGA COURSE, A 4-5 WEEK CONTINUING AND INTERMEDIATE IYENGAR YOGA CLASS OR A PRIVATE LESSON