3 Week Yoga Intensives With Classes Meeting ONLINE LIVE Tuesday Thru Friday 5:30AM, 7am, & 4:30PM Monday thru Thursday
The Center For Yoga of Seattle's Intensive Yoga Courses are a terrific way to learn the basic series of postures and to make outstanding and rapid progress in flexibility, strength and stamina.WE ARE TEACHING LIVE-STREAMED YOGA INTENSIVES ON ZOOM VIDEO CONFERENCING. YOU WILL BE ABLE TO RECEIVE LIVE FEEDBACK JUST AS YOU WOULD IN THE STUDIO. WE ARE OFFERING FOUR 3 WEEK INTENSIVES EVERY MONTH WE HAVE POPULAR COURSES AT 7:00AM-8:30AM, 4:30PM-5:45PM, & 5:30AM-6:45AM. REGISTRATION IS NOW OPEN. THE COURSES MEET TUESDAY THRU FRIDAY OR MONDAY THROUGH THURSDAY FOR THE AFTERNOON INTENSIVES. When we are able to open the studio for in-person classes, we will also continue to offer live streamed yoga intensives for those who are not able to get to the studio in Seattle's Ravenna Neighborhood.
WE ARE ALSO OFFERING SEVERAL 1-YEAR LONG PRACTITIONER TRAINING COURSES. THESE MEET FOR 2 HOURS EACH WEEK DURING THE EVENING AND DAY TIME. THESE COURSES HAVE THE SAME STUDENTS EACH WEEK AND PROGRESS GRADUALLY. PLEASE SEE THE PRACTITIONER TRAINING TAB FOR MORE INFORMATION.THE NEXT 45 SESSION PRACTITIONER TRAINING COURSES START THURSDAYS, NOVEMBER 2020 10AM-12NOON AND TUESDAY 6-8PM IN NOVEMBER, 2020. * BOTH COURSES HAVE A LIVE STREAMED OPTION.
Iyengar Yoga is such a great form of yoga, so unique, and powerful, and of such a high quality that it should not be missed! This form of yoga has it all: focus, concentration, accessibility, variety, energy, excitement, relaxation, and calm.
These type of progressive immersion courses are very rare. We are one of the only places in the Northwest to offer this opportunity.
12 Session Progressive Intensive Course
$300 REGULAR FEE. CHECK OUR SPECIALS PAGE TO SEE IF THERE IS A SPECIAL ON ANY OF THE UPCOMING 5:30AM, 7:00AM, AND 6:00PM COURSES THIS WEEK!
Special Offer!
We often offer these intensives at substantial discounts especially for early registration. These are online only and are not available at the studio. Click here to see if there are any specials this week for the intensives. We often offer special rates for those who are Brand New to Our Program(have never been to the center). We also have special rates for Full Time, Currently Enrolled, College or University Students.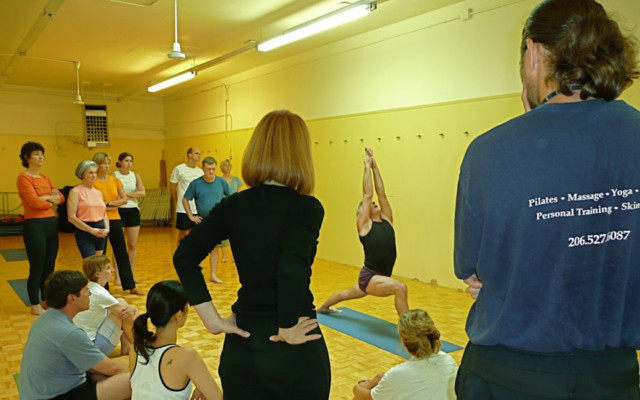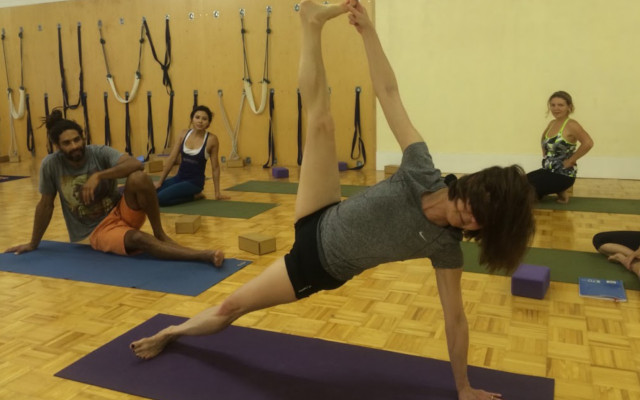 The Benefits of Intensive Courses
Our FUNDAMENTALS OF PRACITCE (Level 1&2) Progressive Intensive Course is specially designed if you:
Are brand new to Hatha Yoga in general or to The Iyengar Method in particular
Have been studying another form of yoga
Have been practicing less than two years
Are not practicing on a daily basis and want to learn how daily practices are performed
Want to accelerate your progress
Please note that enrollment is strictly limited and many previous beginner Intensive Courses have been filled to capacity, at times with long waiting lists. You may retake the Level One and two Fundamentals Course any number of times.
The Level 2 &3 Intensive Course takes over from where the Level 1&2 Course ends and is designed for students who:
Have taken a 4 week intensive
Have been practicing Iyengar Hatha Yoga for at least 4 months
The Level 2&3 Intensive Course has a much faster pace than the Level 1&2 Fundamentals Course. Poses are held longer, and are more cardiovascular and strength-oriented. If you take both levels back to back you will get the most from this very powerful combination.
---
Student Comments
Taking classes at The Center for Yoga was a very rich experience. The teacher's attentiveness to our movements, as well as the focused attitude of the other students made me very present and motivated to do my best. What I liked the most was to be guided into a pose step by step, while receiving clear
...Read More
Christina Zubelli
---
It has been great to have yoga almost every morning. It makes my day happier and healthier. It's my new joy of life.
H. C.
---
I enjoyed the whole Iyengar approach to yoga, which was new to me. In my previous experience ... I tried to go too far in poses in a rapid "flowing" manner. [In Iyengar yoga] I gained more knowledge and didn't injure myself.
Katy McCoy
---
It was great to have a dedicated teacher for one month and to be "taught" yoga rather than just participating in a yoga class. I found the intensive physically challenging and intellectually stimulating.
Shay Wotring
---
[My experience in the afternoon intensive] was wonderful. We did all sorts of new and interesting things.
Sarah Merner
---
[My experience] was very good -- noticeable improvement on an almost daily basis. I got handstand!
Pam Nolan
---
[The Afternnon Intensive] exceeded my expectations for myself (what I could do and get out of 4 weeks). And I got a tast of "it" - the feeling of being in the moment with strength and flexibility. Thank you for believing in me and what I could do and pushing me.
Debbie Jones
---
[The Afternnon Intensive] was wonderful! I feel encouraged and educated.
Deirdre
---
[The 5:30am Intensive] was wonderful! I'm just back to yoga after an extended physical illness. This was a fabulous re-introduction to all that I know and could be reminded of. Working pace for poses, etc. was perfect - challenging, strengthening, and restorative.
Sandra Keller
---
The [March Weekend Immersion for Beginners] was excellent. Challenging and insightful for all practioners. I would like more 2-day workshops.
Virginia Burdette
---
I really like the morning intensives. It is a great way to start the day. Sometimes, struggling in a pose, I realize it is the toughest part of my day, which gears me up for whatever may be going on at works.
Anonymous
---
I'm in LOVE with [the intensive experience]. Very connecting, inward and outward.
Angela Mata
---
A complete transformation. I was feeling tension all over my body before starting yoga - it has done so much to strengthen and stretch my body and my mind at the same time. I no longer feel contracted after days of sitting in a desk chair at work. The class was challenging, but easy to follow at the
...Read More
Stephanie Pastewait
---
Challenging, rewarding, relaxing, fun — all at the same time!
D. S.
---
Just wanted to let you know that your intensives were the best yoga classes I have ever taken. A number of variables were responsible for this: a nice facility with plenty of props, good instruction with personal attention (believe me, good instruction is hard to find!), the daily schedule, and reasonable
...Read More
Doug Wegner
---
For the past 10 years, I have relied on jogging as my primary form of exercise. However, in the past year I have developed increasingly intense pain in my hip, lower back, knees and ankles. After the Intensive, there has been a tremendous improvement and I am thrilled to now be almost pain free!
Sarah N.
---
The experience of the Intensive was tremendous! It was more physical than I had expected and pushed me to limits I didn't think my 50-year-old body was capable of. I liked the individual attention and care the instructor had for each student — the fact he remembered our names and how we had done a
...Read More
I. M. D.
---
I felt better, got stronger, lost weight and had more energy. I have never felt more in tune with my body. The intensive course was such a great experience for me — I recommend it to friends! I could really see and feel the progress I was making.
Kate Fortmueller
---
[My experience in the early morning intensive] was excellent! Great way to start the morning. Very specific teaching re poses was most helpful. Has been & continue to be helpful in my home practice.
Karen S.
---
The training was everything I was looking for and more. Richard's teaching style is direct, precise, and thorough, as well as attentive to the individual needs of each student. I do not have access to this level of Iyengar instruction in my area, so this was such a gift. The training has inspired me,
...Read More
Lori Lochelt
Coeur d'Alene, Idaho
---
Excellent training! It was challenging, exhilarating, and fun. I walked into the training with an open mind, not knowing what to expect with some doubts about my ability and stamina to complete the full five days (due to my advanced age and lack of yoga experience). However, due to Richard's expertise,
...Read More
JoAnn A. Fortman
Kennewick, Washington
---
I was very impressed by the amount of material and number of asanas we were able to cover in five days. Richard tailored the class to the level of the students, and I think that all of us grew considerably in our practice, in our knowledge of the asanas (including their Sanskrit names), and in our bodies
...Read More
Kelsey Cleveland
Kobe, Japan
---
It was exactly what I was looking for and needed. I needed to move on to the 'next level' in my yoga practice. The workshop pushed me to new levels of familiar asanas and introduced me to some I had not done before, and some that I avoid because of physical concerns/limitations and fear of injury. I
...Read More
Carey Hilbert
Eugene, Oregon
---
I liked the chance to do some deep practicing with a superior teacher [in the Level 2 Practice Intensive]. I have never taken a regular class from Richard, previously having always done Teacher Trainings. I really enjoyed the chance to learn more about how to sequence asanas, how to transition into
...Read More
C. M.