2,3, & 7 Week Yoga Immersions With Classes Meeting IN STUDIO AND LIVESTREAMED ON ZOOM Tuesday Thru Friday 5:30AM,and 7AM
The Center For Yoga of Seattle's 2,3, and full 7-Week Immersion Yoga Courses are a terrific way to learn the basic series of postures and to make outstanding and rapid progress in flexibility, strength and stamina, and to immediately experience the power of daily yoga practice. WE ARE TEACHING THESE IMMERSION COURSES IN OUR STUDIO IN NE SEATTLE AND ALSO SIMULTANEOUSLY LIVE-STREAMED ON ZOOM. YOU WILL BE ABLE TO RECEIVE LIVE FEEDBACK JUST AS YOU WOULD IN THE STUDIO IF YOU CHOOSE TO TAKE THE COURSES ONLINE.. WE OFFER 3 LEVELS OF 2-3 WEEK IMMERSIONS EVERY 8 WEEKS.. WE HAVE THESE POPULAR COURSES AT 5:30AM-6:45AM & 7:00AM-8:30AM. THE COURSES MEET TUESDAY THRU FRIDAY.
Iyengar Yoga is such a great form of yoga, so unique, and powerful, and of such a high quality that it should not be missed! This form of yoga has it all: focus, concentration, accessibility, variety, energy, challenge excitement, relaxation, and calm.
These type of progressive immersion courses are very rare. We are one of the only places in the Northwest to offer this opportunity. 3 Things are special about these courses: 1. You are getting instruction in Iyengar Yoga, the Gold Standard of Yoga Systems. 2. You are learning from Seattle's most experienced yoga teacher, Richard Schachtel. 3. You are in a specially structured course that allows you to learn and to improve. No casual drop-in students are permitted. Only those serious enough to want to be in structured course as this can join.
12-28 Session Progressive Immersion Courses
$735 REGULAR FEE FOR THE 7 WEEK PROGRESSION. 2 WEEKS ARE $210. 3 WEEKS ARE $315. CHECK OUR SPECIALS PAGE TO SEE IF THERE IS A SPECIAL ON ANY OF THE UPCOMING 5:30AM, 7:00AM COURSES THIS WEEK!
Special Offer!
We often offer these intensives at substantial discounts especially for early registration. These are online only and are not available at the studio. Click here to see if there are any specials this week for the intensives. We often offer special rates for those who are Brand New to Our Program(have never been to the center). We also have special rates for Full Time, Currently Enrolled, College or University Students.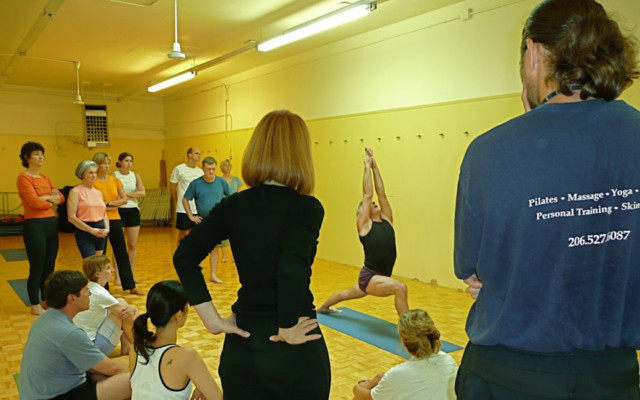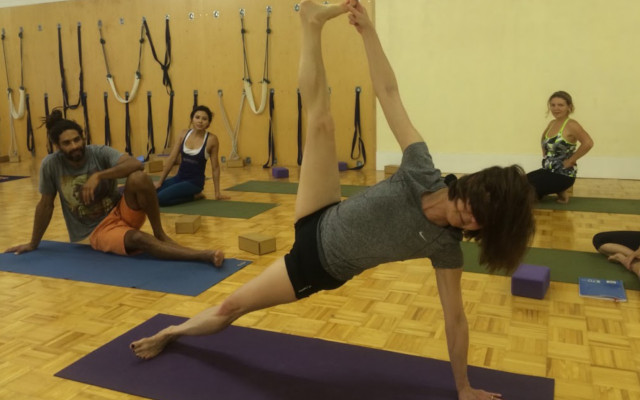 The Benefits of Intensive Courses
Our FUNDAMENTALS OF PRACTICE (Level 1&2) Progressive IMMERSION Course is specially designed if you:
Are brand new to Hatha Yoga in general or to The Iyengar Method in particular
Have been studying another form of yoga
Have been practicing less than two years
Are not practicing on a daily basis and want to learn how daily practices are performed
Want to accelerate your progress
Please note that enrollment is strictly limited and many previous beginner Immersion Courses have been filled to capacity, at times with long waiting lists. You may retake the Level One and two Fundamentals Course any number of times.
The Level 2 &3 Immersion Course takes over from where the Level 1&2 Course ends and is designed for students who:
Have taken a 4 week immersion
Have been practicing Iyengar Hatha Yoga for at least 4 months
The Level 2&3 Immersion Course has a much faster pace than the Level 1&2 Fundamentals Course. Poses are held longer, and are more cardiovascular and strength-oriented. If you take both levels back to back you will get the most from this very powerful combination.
---
Student Comments
The training was excellent. I greatly appreciated the high standard of yoga practice and the super energy of each instructor. Richard's sense of humor, critical feedback, and impressive ability to stay on track throughout the month while being flexible and adaptive was terrific. We were given an enormous
...Read More
Stephanie Williams
Leavenworth, Washington
---
[Richard's training was] clearly taught with a desire to share all of [his] previous learnings and experiences with students. The studio reflects a professionalism, and I felt confident that I was learning in a very effective way. My only disappointment was that I couldn't take the entire course [4-Week
...Read More
Sherry Greenlee
Indonesia
---
[Richard's] demonstrations were great. He explained everything to detail — that was my favorite part. And he also noticed our own areas where we needed improvement. I believe everyone was quite surprised about that. [In response to "What did you like about the training?"] First of all, I learned a
...Read More
Susan K. McCawley
Palo Cedro, California
---
I loved [the training]. Very inspiring! Overall, the training ... exceeded my expectations. It was rigorous and required discipline. I liked that. I [also] liked that Richard individualized his instruction and could pick out the areas I needed to work on immediately. So, although I was in a class with
...Read More
Sherry Shuldes
Boise, Idaho
---
[What I liked about the Immersion is] the ability to do yoga continuously over a period of 4 weeks and being at a studio solely devoted to Iyengar yoga so that I could take advantage of other classes.
On the Level-1 Practice Week of the 2006 Summer Immersion...
A wonderful way to refresh ...Read More
Cindy Berliner
Freeport, Maine
---
It was a great experience & I would recommend it to anybody who is serious about yoga, but not ready for a two-year commitment. I liked the many hours of yoga practice, and I liked working with the group. It was a very supportive atmosphere, and the quality of the instruction we received was sublime.
On ...Read More
Shannon Mahan
Kirkland, Washington
---