What Our Students Say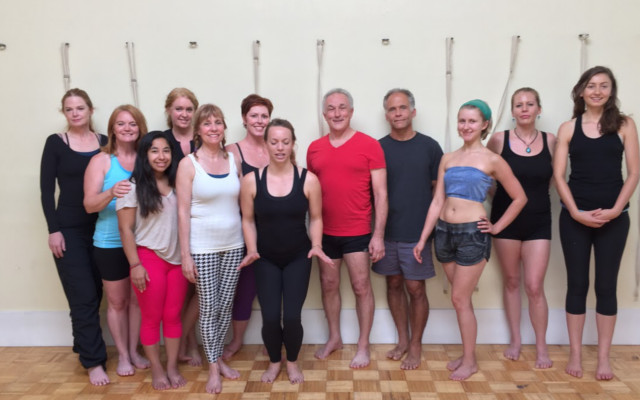 Iyengar yoga tradition. This program is worth going to if you value detailed actions and communication from your instructors to get a deeper understanding of asana. Iyengar is alignment based and focuses on the foundation of the asana. In the Iyengar tradition you will also be introduced to the use
...Read More
Kendra Webber
Jun 17, 2015
---
Richard is wise and talent teacher. I am so appreciated when a teacher spends a lot of time discussing alignment and the reason behind why we do certain sequence of poses. I enjoyed paying attention to his teaching style during the teacher training course.
Kwanruethai Patumrattanachote
Oct 01, 2015
---
This school and my teacher hold a sacred place in my heart. I'm extremely thankful for the entire experience and the amount of knowledge I attained while in the school. This is my foundation and my roots to the beautiful path laid before me. Thank you, thank you for being such a special part of my journey!
...Read More
Kasey Crutchfield
Jul 21, 2014
---
The Center for Yoga Seattle as an Iyengar studio has the best alignment principles and is very good at making sure you can recognize if a person is doing a pose correctly and how to adequately use props to assist in their yoga experience.
Kiwani Allen
Sep 17, 2014
---
I had a great time during the summer intensive. Learned a lot of fine tuning skills and great methods to teach. I would highly recommend this program.
Shannon Slevin
Aug 06, 2015
---
The Center for Yoga of Seattle's 1 Year Weekend teacher training program covers considerable breadth of material without sacrificing depth. Of particular note is that this program gives you tools with which to work with individuals of greatly varying physical ability. A very enjoyable experience.
Nesanit Mitiku MD PHD
---
The Center for Yoga of Seattle has a special passion for helping students reach their full potential, safely, and understanding the "why" of everything we did.
Kelley Bridges
Aug 26, 2014
---
I appreciate the time spent on correct alignment and learning how to do the poses safely. Good intro to the depth and scope of yoga and instilled in me a desire to continue my studies.
Adrianne Bolach
Oct 17, 2014
---
The month long course was hard, but to feel the accomplishment at the end of the training was worth it, I really enjoyed this training. I learned so much and had met some really great teachers. Our instructor knew his material and presented it in the short month I was enrolled. He has a lot of experience
...Read More
Ethel Hogge
October 19. 2015
---
Iyengar's approach to yoga meets everyone at their level of practice. This training gave me the confidence to offer adjustments in any pose, by bringing the body into alignment which minimizes the potential for injuries.
Bonnie Chan
April 2, 2014
---
The comradery of the students was excellent. No competition was felt, rather each student supported and helped others daily. The primary instructor was generally kind and sympathetic towards students yet maintained the structure and pace of the intensive training. Sufficient rest was given and encouraged
...Read More
Cristine Harvold
January 8, 2014
---
200hr Yoga teacher program was the best experience in this year. I met brave, strong and amazing peers and teachers through this program. I'll never forget this experience. I'll go on my yoga practice to the last breath.
Jiyul Kim
June 24, 2014
---
---
[My impression of this trainig was] excellent! It deepened my own practice in addition to enlightening the fundamentals of teaching. while not ready for teaching from this course alone, I now have the skills and knowledge to prepare on my own. [What I liked most about the training was] the practice
...Read More
Bob Runkle
Kennewick, Washington
---
I was challenged and informed. [The training] was well thought out and enjoyable—just what I was looking for. [I liked] having the opportunity to concentrate on yoga for five days with like-minded people and being exposed to other teachers and different levels of classes. I learned and ... grew from
...Read More
Barbara Harris
Boise, Idaho
---
The training was excellent. The material was covered in-depth and presented with precision and clarity. The insights that Richard shared along the way were in valuable. His experience and expertise are shared in a very natural way through his teaching.
I really liked how Richard emphasized correctness ...Read More
Natasha Borg
Lebanon, Oregon
---
You could see that Richard worked very hard to make his classes run smoothly with structure and enjoyed teaching. He flooded our minds with wonderful information that you can actually use out in the real yoga wold. Richard's techings were easy to follow and to the point. And it seems everyone felt very
...Read More
Angel Yim
Seattle
---
The Training was first class. I liked taking each subject/pose scientifically... I gained a lot more knowledge and depth of the poses. It will be a great asset to my students and my self. This Intensive further broadened my knowledge of how to present a better class and make yoga invigorating and fun.
...Read More
David Luce
Dillingham, Alaska
---